Free Digital Clinic for Salford Neurological Issues Charity Basic's Clients
Free Digital Clinic for Salford Neurological Issues Charity Basic's Clients
We have been made aware of a wonderful scheme which is being run by basic, an organisation who deal with sufferers of neurological issues and their carers in Salford. Find out who they can help at this link.
See or click the poster below for more info (scroll further down this post for text)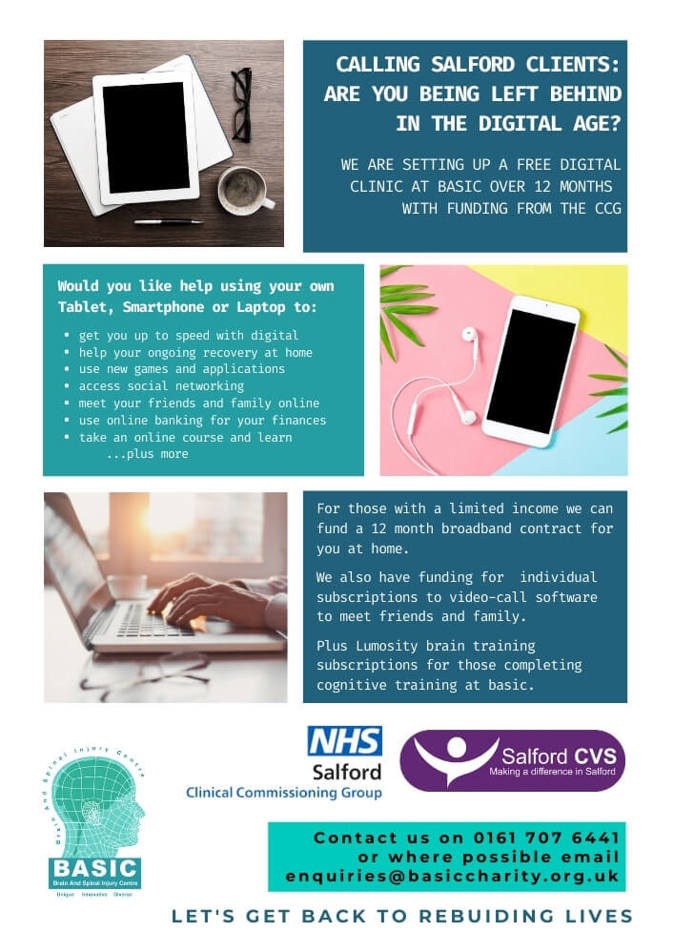 Text on poster reads:
Calling Salford clients: Are you being left behind in the digital age? We are setting up a free digital clinic at basic over 12 months with funding from the CCG.
Would you like help using your own Tablet, Smartphone or Laptop to:
Get you up to speed with digital
Help your ongoing recovery at home
Use new games and applications
Access social networking
Meet your family and friends online
Use online banking for your finances
Take an online course and learn
Plus, more.
For those with a limited income we can fund a 12 month broadband contract for you at home.
We also have funding for individual subscriptions to video-call software to meet friends and family.
Plus Luminosity brain training subscriptions for those completing cognitive training at basic.