Digital skills: Advanced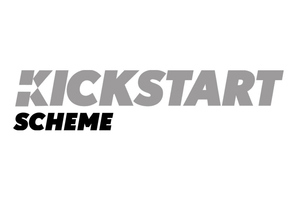 Want to learn work in app development? Get 6 months paid work and training with Toasted Productions, testing, producing reports and working with relevant software.


What is Kickstart?
Kickstart is a six month paid job with a local employer. Funded by Government, Kickstart provides young people with an opportunity to gain experience and skills by working with a range of employers across the UK.
The Kickstart Scheme is open to 16 to 24 year olds, who are claiming Universal Credit, and are at risk of long-term unemployment. If you have a work coach at the job centre, they will talk to you about the Kickstart Scheme, the types of opportunities currently available and whether it's right for you.
We are also here to help, so if you want more information about Kickstart, and particularly the opportunities we have here at Salford City Council and with our partner organisations, then please get in touch.
To register your interest or for more information please email sebastian.young@salford.gov.uk or david.timperley@salford.gov.uk
We have placements available in many different areas, such as finance, business administration, grounds maintenance, youth work, social media, childcare and construction, to name but a few.
Over the coming weeks and months, we plan to hold several virtual events for Kickstart opportunities with Salford City Council, and with our partner organisations. In these virtual events you'll be able to find out more about Kickstart placements and what's involved, as well as meeting the teams and employers you'll be working alongside. You'll also find out what a usual day will look like, including virtual tours of the workplace. And of course, you can any questions you might have too.
See what young people say about Kickstart: YouTube Video About Kickstart

The Raspberry Pi Foundation is a UK-based charity that works to put the power of computing and digital making into the hands of people all over the world. We do this so that more people are able to harness the power of computing and digital technologies for work, to solve problems that matter to them, and to express themselves creatively.
How to access the Rasberry Pi courses
Rasberry Pi on social media
About the digital skills course
Digital production, design and development - Élite course T - Level vocational
Digital T Levels are a new two-year, Level 3 study programme that offer an attractive alternative to advanced vocational study, A Levels and Apprenticeships.
Digital T Levels will combine classroom theory, practical learning and an extensive industry placement with an employer to make sure students have real experience of the digital workplace.
Outline
Students will learn about the following topics:
problem solving
programming
emerging issues and impact of digital on society
legislation and business context
data and digital environments
security and networks
Digital T Levels will combine classroom theory, practical learning and an extensive industry placement with an employer to make sure students have real experience of the digital workplace.
Entry requirements
For advanced Vocational courses, students are required to have five grade 4s at GCSE, which must include English and mathematics. For our elite programmes additional assessment evenings may be required.
Progression
During the two-year programme, students will learn the core knowledge that underpins each part of the industry and will also develop specific skills that will allow them to enter skilled employment within a Digital occupation.
The Digital T Level provides the knowledge and experience needed to open the door to highly skilled employment, a higher apprenticeship or higher level study, including university.
Examples of career progression include;
Software Development Technician
Web Developer
Application Developer / Mobile App Developer
Software Developer / Programmer
Software Tester
How to apply
Please visit -
Course Application - Salford City Collage (salfordcc.ac.uk)
An exciting free digital marketing course
Learning around your work life balance that gives you the latest digital content in a hands on course from the experts in programmatic and digital marketing. This course is for Greater Manchester residents.
Course Overview 
Analytics, Understand how to implement, test and measure results using analytics tools including Google Analytics, Tag Managers, Goals and lots more.
Data driven marketing , Woven through the programme especially around market researching including 1st party data and quantitative vs qualitative.
Social Media, Understanding of Social Media Tools, Technology and Platforms including the ability to plan, test, implement and refine a social media campaign.
Topics including content audit, site structure & hierarchy, customer journey, content hooks, rich media, video and podcast.
Website fundamentals, Understand how to design and build websites, and managing CMS tools.
Conversion optimisation, Understand techniques and best practices on how to increase the percentage of users who perform a desired action on a website. 
Strategy, Taking all the learnings from the course and developing into an overall digital marketing strategy covering topics like objectives, marketing fundamentals, customer-centric, data-driven, iterative, test, learn & refine and omnichannel.
Programmatic Marketing , A new addition for our 2021 programme built in partnership with MiQ focussing on ad trading and other topics to be announced during the training.
Why Apply
Its completely free it is a course worth thousands, for nothing; funded by GMCA
100% remote, no classrooms, just online training
Flexible courses to accommodate your life and commitments
Guaranteed interview, on course completion with exciting employers
Certificates - Google, Facebook, Twitter and HubSpot
Simply having some fun, learning new skills and meeting great friends
How to apply
Please visit - Digital Boost

Digital Skills: Artificial Intelligence
Discover the ability of artificial intelligence to transform your everyday life and reshape the way you work.
Identify the skills you will need to work with AI in the future
 Artificial intelligence (AI) is used in many businesses to improve the way employees work. On this course, you will learn more about the past, present and future of artificial intelligence and explore its potential in the workplace.
You will enhance your understanding with interesting facts, trends, and insights about using artificial intelligence. You will also explore the working relationship between humans and AI and the predicted skills needed to work with AI.
What topics will you cover
Week 1: Introduction to Artificial Intelligence
What is Artificial Intelligence and where did it come from?
AI in Action
What does this mean for me?
Week 2: Artificial Intelligence in Industry
Impact of AI on Individuals
What does this mean for me?
Week 3: Adapting your skills to work with Artificial Intelligence
How has the relationship changed between AI and Humans?
Imagining the Future 
When will you start
Start straight away and learn at your own pace.
What will you achieve
By the end of the course, you'll be able to:
Describe the origins and advent of AI
Explain the relationship between AI and Automation
Reflect on the application of AI to your own context
Identify key shifts in the workplace influenced by AI
Assess the impact shifts in the workplace may have on roles and responsibilities
Identify how the relationship has changed between AI and humans
Identify future skills required to work and interact with AI
Produce an action plan to adapt your skills for the future
Who is the course for
This technology course is for anyone with an interest in AI who is looking to improve their entrepreneurial skills, enter the workplace, or change careers.
Interested in applying visit Digital skills courses